Dyson V6 Cordless Vacuum Cleaner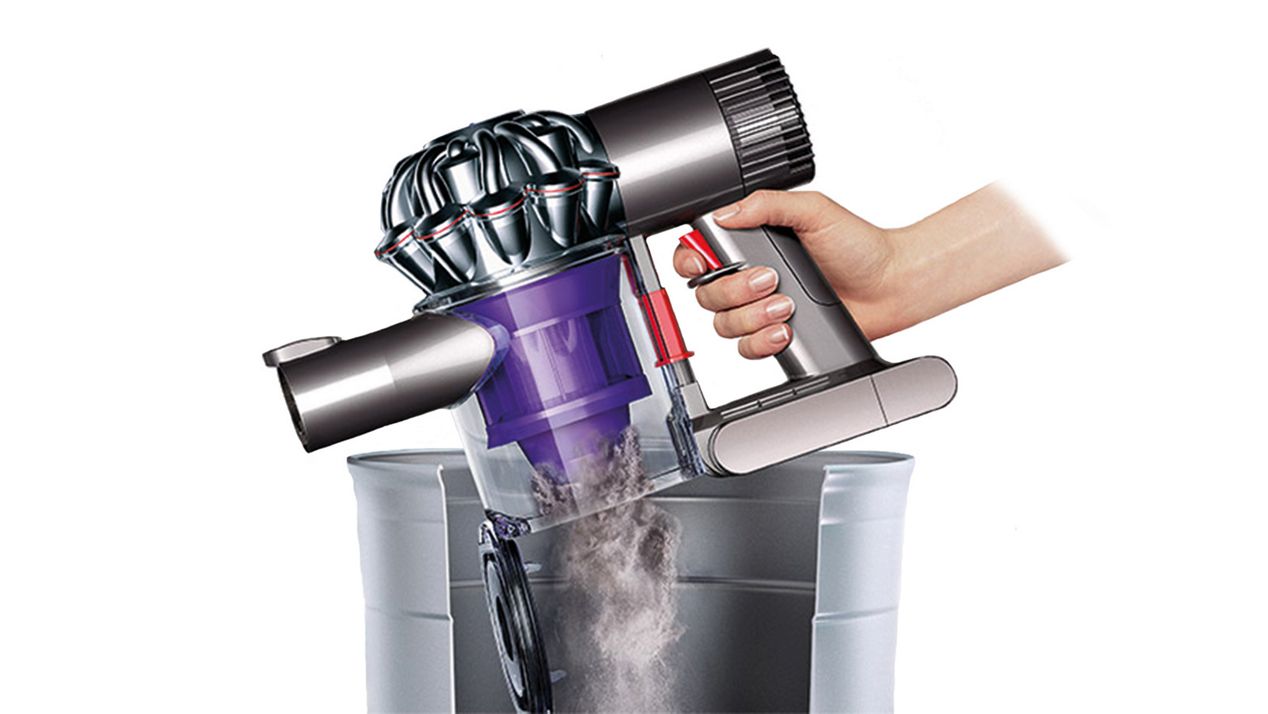 PROS
Small and Agile
Great Suction
2-in1 Handheld and Upright
Excellent Build Quality
Easy Cleaning
Charger is Wall Mounted
CONS
Can be Pricey
Short Battery Life
Difficulty choosing a Model
The Dyson V6 is a superb entry-level vacuum that is entirely battery-powered – unlike corded upright vacuums.
It is powerful, light, and completely cordless. It is also easy to maneuver and has great suction power. It can also be adapted and used in handheld mode. On the downside, it has a small dust bin and short battery life.
Dyson makes seven different variants of this model. These include the V6 Standard, Animal, Animal Extra, Total Clean, Fluffy, Absolute, and Flexi. The models are all the same but come with different attachments and colors. The only exception to this is the V6 Absolute.
Because it is so important to choose the right tools and cleaning equipment for your home, we have compiled a thorough review of the Dyson V6. Keep reading for everything you need to know about this cordless vacuum cleaner and all its variants.
Our Rating
Our Review
Cleaning Performance
When reviewing a cordless vacuum cleaner, one of our main criteria is how it performs. However, cleaning performance can be challenging to measure. This is because the performance of a vacuum does not depend solely on its suction or speed on a flat surface.
When we measure performance, we measure how much dirt, fine dust, and large debris a vacuum can dislodge and suck into its container. The Dyson V6 cordless vacuum does not have as much suction as its corded counterparts. Yet, it does a fantastic job of cleaning because of its many attachments. These vacuums come with an array of tools to help you get into every nook and cranny.
For example, the Dyson V6 Fluffy is ideal for a home with hardwood floors throughout. It comes with a variety of gentle attachments and a soft roller cleaner head that won't damage your hardwood floor.
On the other hand, the Dyson V6 Animal and Animal Extra are great options for shoppers with carpeting and pets. They have bristled or direct cleaner heads that can pull pet hair from carpets in no time at all.
Design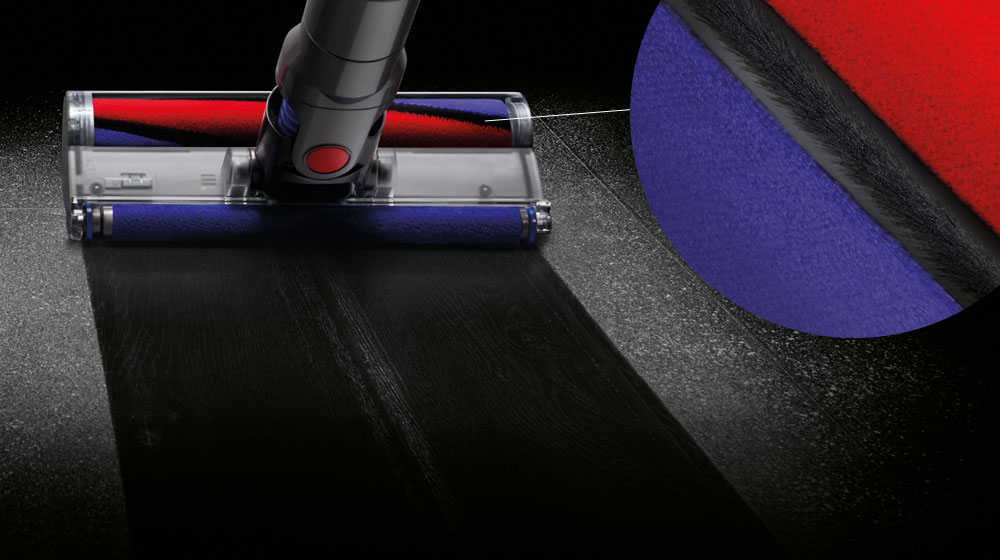 Dyson has always been renowned for the design of its products, and the V6 vacuums are no different. They have a unique, unexpected design that makes them stand out from other cordless vacuums on the market.
The V6 has a small base unit, making the design light and compact. This design also makes it easier when reaching up to clean ceiling corners, as the center of gravity is close to the user.
There are many advantages to having such a small, compact design. Cleaning the inside of the vacuum is fast and easy. The head can also be replaced, turning it from a stick vacuum to a handheld vacuum within minutes.
Weight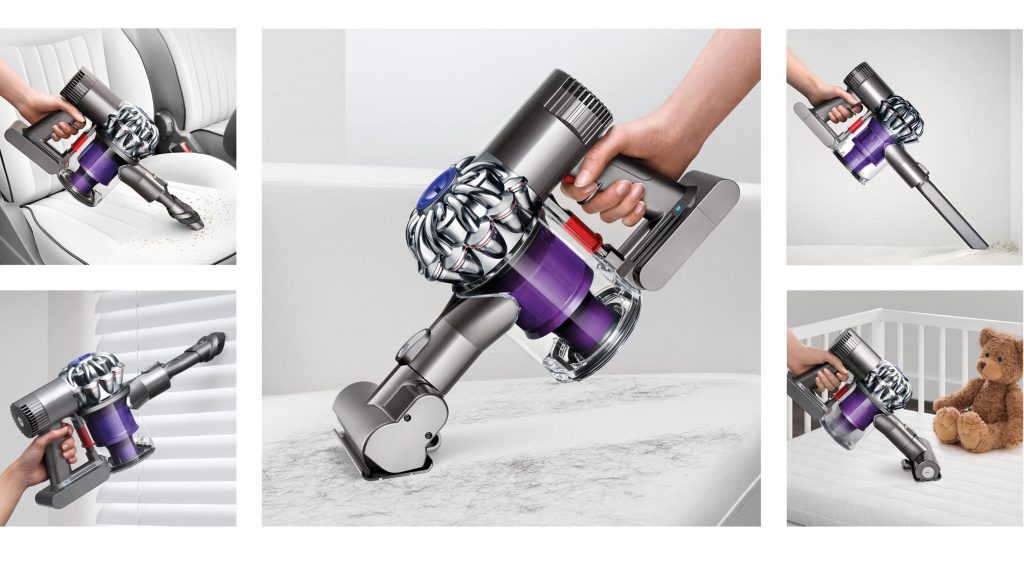 The Dyson V6 cordless vacuum has a small body with long attachments, making it one of the lightest on the market. These vacuums all weigh just under five pounds, except for the Absolute which weighs a bit more.
The center of gravity is close to the user and these vacuums are very light-weight. This makes them ideal for cleaning hard-to-reach places without needing to exert much effort.
Movability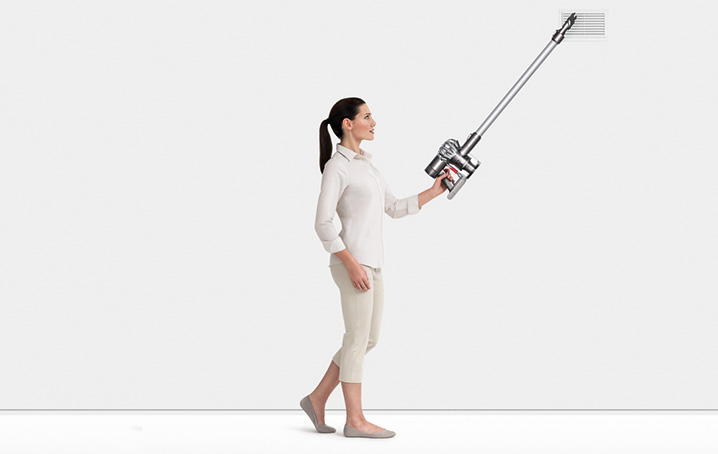 The Dyson V6 range is highly maneuverable. They are already easy to clean on the floor, but with their many attachments make it easy to reach other places, too. These include:
Ceilings and ceiling corners
Between banisters
Small crevices (using the Crevice tool)
On top of cupboards (using the Up Top tool)
Difficult areas (using the Flexi Crevice tool)
And everywhere else (using the Combination tool)!
Keep in mind that not every Dyson vacuum will come with all of the tools mentioned above. If you'd like more attachments, there is the option of purchasing them separately. Keep reading to discover more about the various models, below.
Battery Life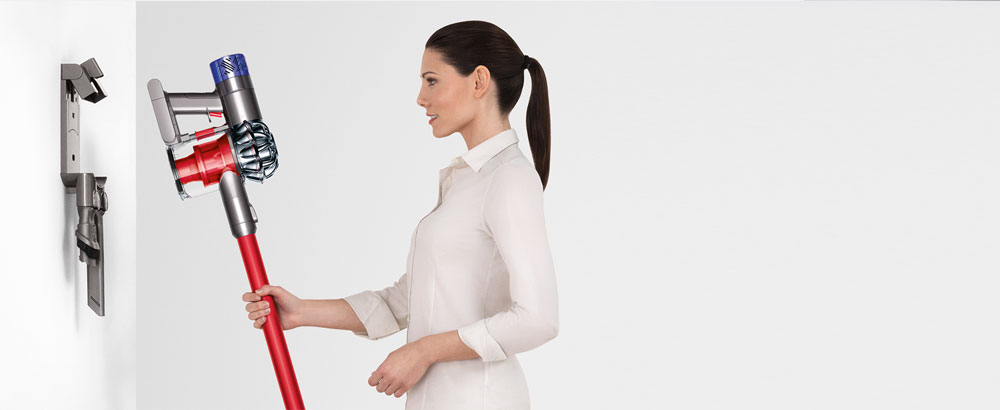 One of the only downsides of the Dyson V6 range is its low battery life. Many consumer reviews share the same sentiment, as it's one of the main areas these vacuums can be improved upon.
However, Dyson is very upfront about this. They state clearly that the battery lasts for around twenty minutes in normal mode. They also make it clear that MAX mode will deplete the battery after around six minutes. After testing, we have found this is still true even after using these vacuums for several months.
The MAX mode on these vacuums is designed to tackle difficult areas but is not necessarily designed to be used for the whole cleaning session. We found that the ideal way to use these vacuums is in normal mode, with the odd burst of MAX mode in between. This gives an average of seventeen minutes of battery life, which is more than enough for everyday cleaning sessions.
On the other hand, Dyson V6 vacuums come with a wall-mounted battery charger. This gives them an upper hand over the competition, as the vacuum will be charged every time it is put away.
If you can clean your whole home in around twenty minutes, the Dyson V6 may be perfect for you.
Dyson V6 Cordless Vacuum Cleaner Models
Dyson V6 Standard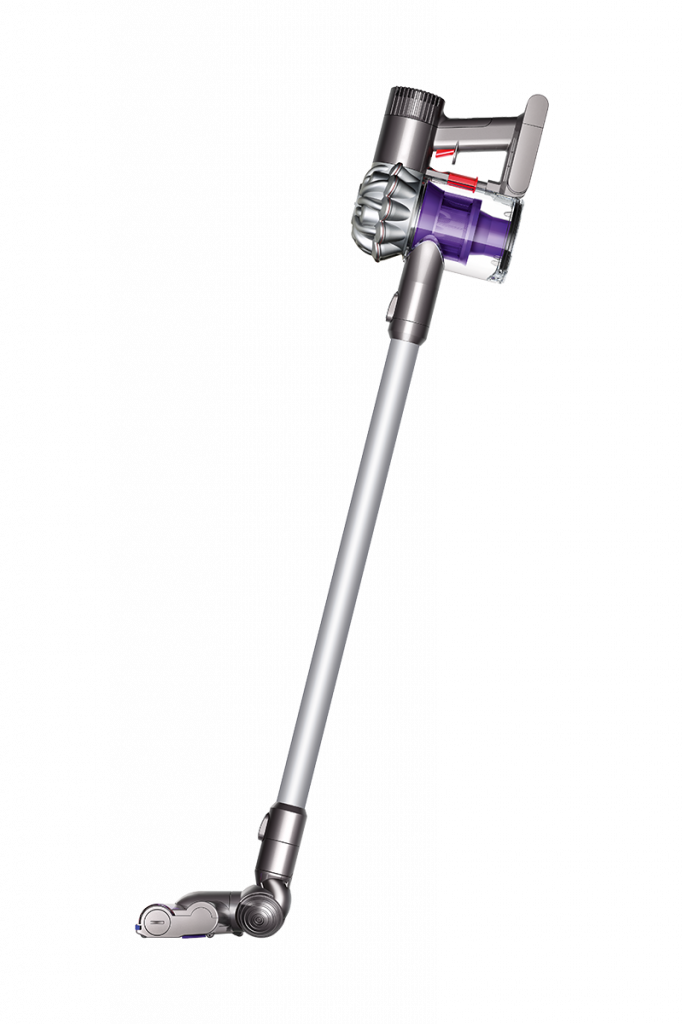 Price: Around 270 USD
The standard model of the Dyson V6 comes with the base unit, a Rigid Crevice tool, and a Combi tool. While it works well, we recommend opting for one of the more niche models instead. Many of them have nearly the same price point but come with more attachments.
Dyson V6 Flexi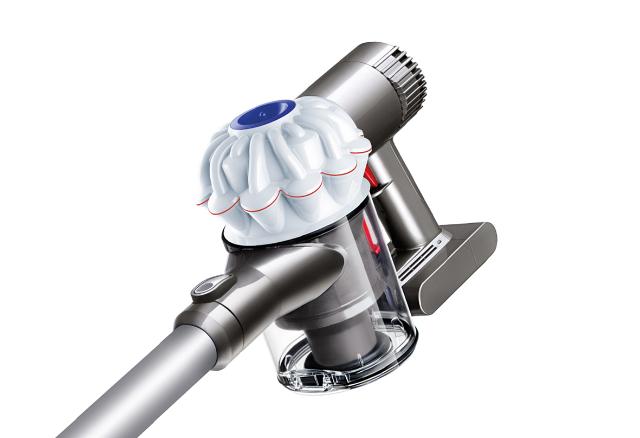 Price: Around 260 USD
As its name might suggest, this model has various flexible attachments. The standard Rigid Crevice tool and Combination tool are included, but it also comes with a Flexi Crevice tool, a Stubborn Dirt brush, and an Up Top tool.
Unlike its rigid counterpart, the Flexi crevice tool includes a silicon extension hose that allows for more movement. This is great for tight spaces and hard-to-reach places.
The Up Top tool is designed for cleaning on top of things that are too high to reach otherwise, such as cupboards. It has a U-shaped arch and is a must-have if your house is prone to collecting dust on top of wardrobes.
Dyson V6 Animal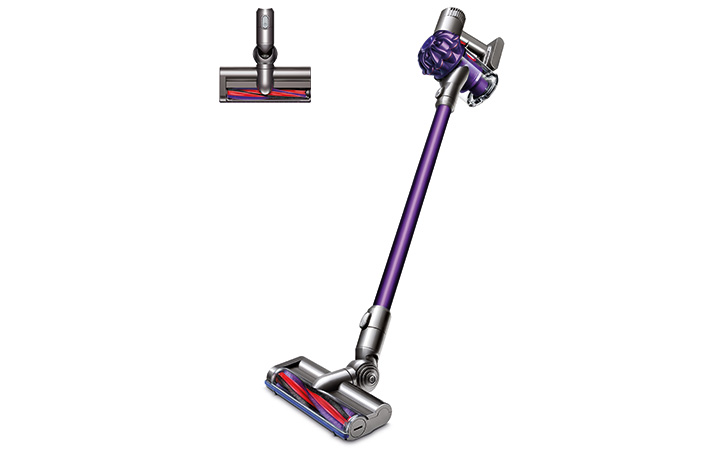 Price: Around 310 USD
Perhaps the most popular of the Dyson cord-free series, the V6 Animal combines the standard unit with a Motorized cleaner head. It also comes with a Mini Motorized tool and all the attachments offered by the standard model.
Dyson V6 Animal Extra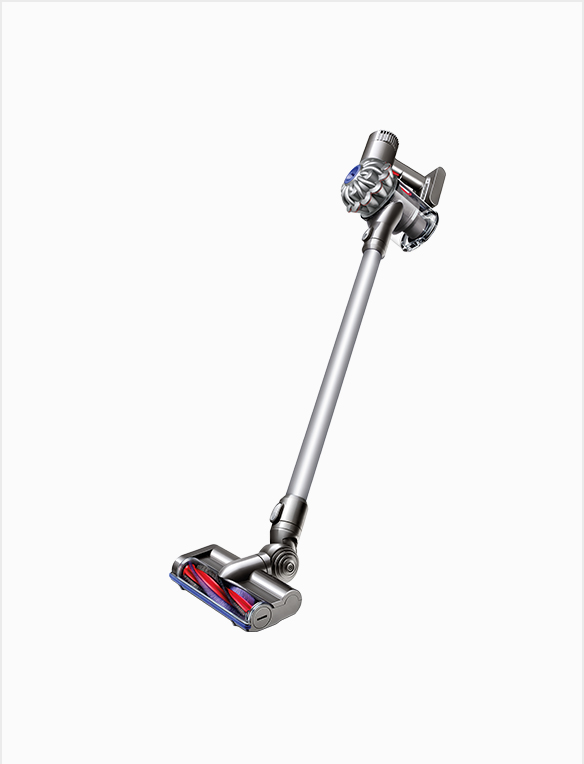 The V6 Animal Extra is the same model as the Dyson V6 Animal but offers an additional 75% of brush bar power. This means that the Direct Drive cleaner head has more power and can clean your carpet even more thoroughly.
We found that it is unquestionably better than the V6 Animal.
Dyson V6 Fluffy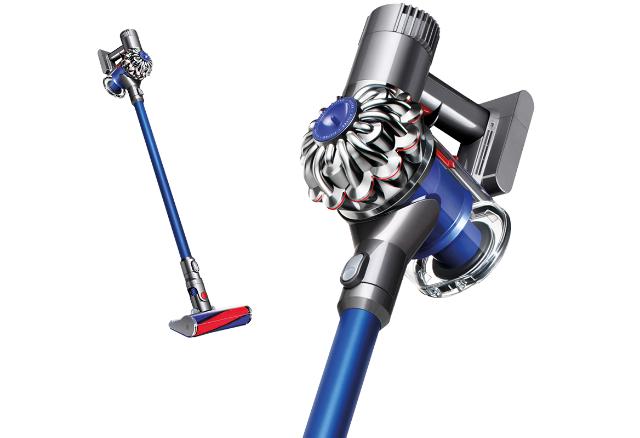 Price: Around 322 USD
The V6 Fluffy includes the Motorized Mini tool, the standard Rigid Crevice attachment, and the standard Combi tool. It also comes with a Soft Roller cleaner head, which is perfect if you have hard floors.
We also really liked its blue color!
Dyson V6 Total Clean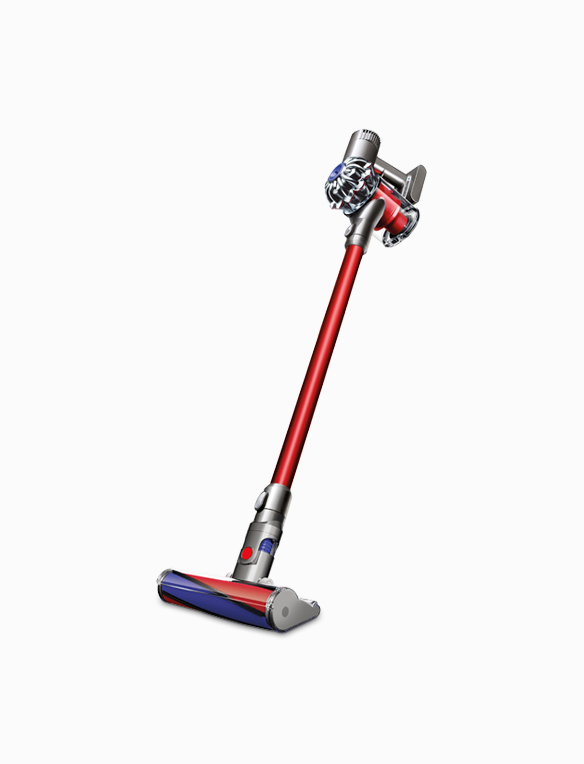 Price: Around 340 USD
Some of the tools included with the Dyson V6 Total Clean are:
Mini motorized tool
Combination and Rigid Crevice Tools
Direct-drive Cleaner Head
Soft Roller Cleaner Head
Because of the soft roller, the Total Clean works wonders on hard floors. It is incredibly thorough and comes with a wide variety of attachments. However, keep in mind that the Soft Roller cleaning head is not made to use on carpet.
Dyson V6 Absolute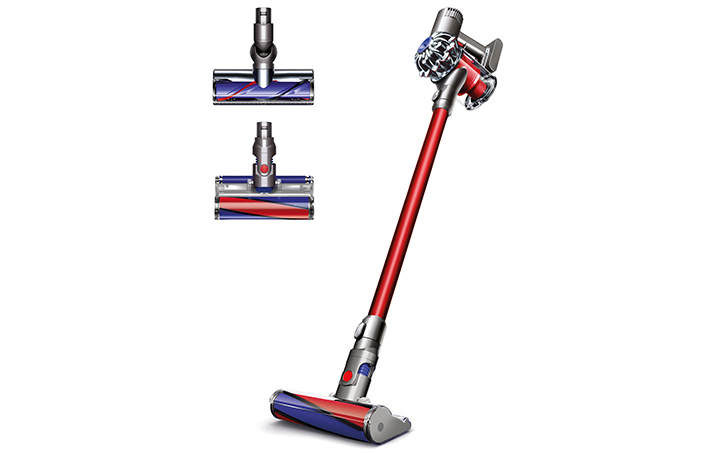 Price: Around 550 and 560 USD
This is Dyson's top-of-the-range when it comes to cordless vacuum cleaners. It is also the most expensive in the range.
The V6 Absolute main unit includes an additional Hepa filter for allergens – something only included in this model. It's a great option for those who struggle with allergies.
Besides all of the standard attachments, the Absolute model also comes with a Hard Wood cleaning head. This is different from the Soft Roller in that it is better at collecting dust.
Specifications
Power
100 AW in MAX mode
28 AW in Normal mode
Battery Life
6 Minutes in MAX mode
20 Minutes in Normal mode
Charging Time
3 Hours
Weight
4.6 Lbs
Dust Box Capacity
13.5 Fluid Ounces
Noise Level
148 dB
Pet-Friendly?
Yes
Additional Tools
Yes (2 with Standard model)
Summary
The V6 vacuum is a fantastic Dyson machine. With the various models in this range, it offers flexibility. There is the option of selecting the best vacuum for your individual needs. It is also entirely cord-free and offers strong suction on various floor types for deep cleaning.
Users in large homes may get frustrated with the small dust container. Additionally, those who spend a long time cleaning will be unimpressed with its battery life.
However, the V6 offers the same fantastic quality we have come to expect from Dyson machines. The small dust box and compact design also make it ultra-portable, and it can be converted into a handheld machine very easily.
If you're looking for something with good suction that does a fine job cleaning on any floor type, we can recommend the Dyson V6 Cordless Vacuum Cleaner.
9.1
The Dyson V6 vacuum cleaner is an excellent option if you're looking for great performance, superior suction, and many attachments to make cleaning easier.